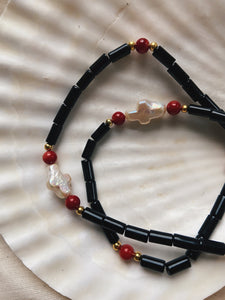 A powerful protection stone, Black Onyx absorbs and transforms negative energy, and helps to prevent the drain of personal energy. Black Onyx aids the development of emotional and physical strength and stamina, especially when support is needed during times of stress, confusion or grief.
Red Coral is a gemstone that has a meaning and properties of vitalizing life energy. This special red color symbolizes "blood." It can strongly circulate energy in a human body.
Pearl signifies faith, charity and innocence. It enhances personal integrity and helps to provide a focus to ones attention. Pearl symbolises purity and is known as a "stone of sincerity". It brings truth to situations and loyalty to a "cause".